Among the many secular macroeconomic trends over the past two decades, two of the most important have been a consistent rise in international trade and a growing shift towards E-Commerce. Consider some brief statistics.
Prior to the ratification of NAFTA, in the year 1990, the United States total trade with the world (imports plus exports) was about $1.15 trillion or about 19.8% of the then $5.80 trillion GDP. The 2009 comparable figures were $3.52 trillion and $14.43 trillion. Nominal GDP rose at a 4.66% rate over this time period while total trade rose at a 5.74% rate, pushing its share of the economy to 24.37%. Trade has also increased throughout the rest of the world, driven by many factors including low cost country sourcing. Globalization has fundamentally altered how supply chains are viewed and managed, causing the complexity inherent in sourcing, purchasing, and distribution to rise substantially.
A second trend that has become rather pronounced in the last decade has been the growth of consumer purchases over the internet. In the year 2000, Amazon.com posted revenues of $2.76 billion and Ebay's (NASDAQ:EBAY) revenue amounted to $431 million according to company SEC filings. Compare that to revenue figures for the year 2009: Amazon.com's (NASDAQ:AMZN) revenue was $24.51 billion and Ebay's revenue was $8.73 billion. That means that for the previous decade revenue compounded at a combined 26.41% for both of these companies. Of course, neither Amazon nor Ebay (or for that matter any E-Commerce retailer) could exist without some means of fulfilling orders.
Both globalization and changing consumer purchasing patterns have been welcome shifts to small parcel transportation providers, an industry in the United States that consists of just two companies: UPS (NYSE:UPS) and FedEx (NYSE:FDX). How is it that the overnight and ground small parcel shipping markets have become so concentrated in just two companies? What are the similarities and differences between the business models of UPS and FedEx? What are the financial prospects for transportation providers and how well is that currently reflected in stock prices? It is to these questions that we now turn our attention.
The Oligopoly: How We Got Here
UPS
UPS traces its origins to the American Messenger Company which was founded in Seattle in 1907 by Jim Casey and Claude Ryan. At the time, messengers had a poor reputation, often identified with saloons and brothels. Casey and Ryan hoped that an opportunity existed for a messenger company that was dependable and hired courteous and clean cut employees. The company grew by focusing on deliveries between retail stores and its customers, a niche larger delivery companies ignored at the time. It was in 1919 that the company renamed itself United Parcel Service. It also duplicated the Seattle business in other cities: Oakland, Los Angeles, San Francisco, Portland, San Diego, and Santa Barbara. Each of these businesses were essentially independent of each other, in other words the business was not designed to ship packages between Portland and Los Angeles, it was designed to ship goods within each of these cities. What the business did offer was a consistent approach and policies, a united approach to running operations that were separate – thus, United Parcel Service. Among the policies was a near obsession with appearance. This was necessary in order to convince department stores to allow the company to represent them in making deliveries to their customers. The famous brown that became synonymous with the company was chosen because it was easiest to keep clean.
UPS continued its measured growth, successfully adding one city at a time. Among the milestones was the beginning of a New York City operation in 1930. The business model that was created, however, started to slowly lose relevance with the adoption of automobiles and suburban shopping malls following the Second World War. UPS' successful model started to broaden as a result, since it was already visiting department stores to pick up packages it became natural to begin delivering shipments from the department stores suppliers at the same time. Unlike customers, suppliers are not necessarily located in the same city as the department stores were. Over time, this led to an integration of the operations. By the late 1970s UPS' domestic ground operations had become fully integrated. Although improvements have been made the current network continues to be managed in a similar way.
International expansion began in 1975 with operations in Toronto. The following year, operations were started in West Germany. After initial struggles in West Germany, the company altered course and decided to expand through acquisition rather than building networks completely from scratch. Over time, these acquisitions were linked together so that the European network resembled the one set up in the United States. Cologne, Germany was chosen as the central hub. The breakthrough into Asia came in 1988 with the purchase of Hong Kong based Asian Courier Systems (ACS) which had operations in Malaysia, Hong Kong, Singapore, Taiwan, and Thailand.
In response to the biggest threat UPS has faced, airplanes were purchased in 1981 and "Next Day Air" service was launched through the operation of four independent airlines. These operations were consolidated in 1988 through the formation of UPS Airlines. The volume from air and ground operations was consolidated for small package delivery to customers. This means that a UPSdriver delivers both express and ground shipments within his route rather than employing separate drivers for each class of volume. The central US hub of operations is currently located in Louisville, KY much as Cologne, Germany is the central hub of European operations. The integrated air and ground network established in the United States was mirrored in Europe when air operations were started there.
In recent years the company has aggressively expanded beyond package delivery by making a slew of acquisitions in the areas of logistics and freight. Expanding in this way meant both diversification from package delivery and at the same time owning assets that could spur small package volumes. Among the largest acquisition was Fritz Companies for $437 million in 2001. Its main business was freight forwarding, which is a company that does not own transportation assets, but rather purchases transportation space in bulk for carriers and then arranges for the best mode of transportation for its individual customers. Other acquisitions included customs brokerages, which coordinate the flow of information between suppliers, carriers, and customs agents in order to ensure a smooth clearing process. Among the largest of these were Trans-Border Customs Service and Border Brokerage Company. Asset based heavy air freight capabilities were added in 2004 with the purchase of Menlo Worldwide Forwarding from Con-Way for $150 million in cash and $110 million in debt. The air freight business operations have subsequently been merged into the overnight small parcel operations. Less-than-Truckload freight capabilities were added in 2005 with the purchase of Overnite Transportation(now UPS Freight) for $1.225 billion. First International Bancorp was acquired in 2001 for $78 million in order to facilitate structured trade finance (it is now UPS Capital). Finally, it was also in 2001 that Mail Boxes, etc. (now The UPS Store) was purchased for $185 million in order to deepen relationships with small businesses.
For the year 2009, 62% of revenue was generated by US domestic package operations, 21% by international package operations, and 17% by supply chain and freight operations.
FedEx
Frederick Smith was born in Marks, Mississippi only a couple of months after Allied troops landed at Normandy Beach in France. The paper Smith wrote at Yale about overnight delivery service has achieved near mythical status, but it was Smith's time in the Marine Corps that was most influential in the development of the ideas that launched Federal Express, as Smith noted the inefficiencies of the system and reflected on ways it could be improved. Smith's father was a successful businessman (owning a restaurant chain and a bus company that was sold to Greyhound). Smith used the $4 million his father left him to start Federal Express, along with venture capital.
Smith's philosophy hinged upon a few ingenious insights. First, a huge market exists for overnight delivery for critical, time sensitive shipments. Second, the current industry approach of moving air packages through passenger flights could never be successful since it was hard to achieve economies of scale and on time performance could not be controlled. Third, rather than flying point to point, the most efficient structure was a hub and spoke network just as ground networks were organized. These ideas guided Federal Express, which commenced operations in April, 1973.
The year 1977 was an important one, one that helped establish Federal Express as a solid franchise. First, a strike at UPS helped short term volumes. Secondly, and far more importantly, the aviation industry was de-regulated (the act was signed by Jimmy Carter the following year). The lifting of regulations allowed for a great deal of flexibility in terms of how flight schedules were constructed and the types of equipment that could be purchased. By 1983, the company surpassed $1 billion in revenue. In terms of start ups, Federal Express ranks as one of the most successful in history.
In order to gain access to international markets acquisitions were made. The first of note was the purchase of Gelco Express International, a Minneapolis company with service to dozens of foreign markets. The purchase of Tiger International for $895 million at the end of 1988 was the most important, not only did it cement Federal Express's leadership in the express market but brought with it a leadership role in Asian markets.
The path from an international express company towards one offering a portfolio of transportation products came about through a single purchase: Caliber Systems, Inc. When Federal Express and Caliber merged a new entity was created called FedEx Corp. The company owned assets in four areas: ground transportation (through RPS, which is now FedEx Ground); Less-Than-Truckload Freight (through Viking Freight which is now FedEx Freight West); expedited freight (through Roberts Express now FedEx Custom Critical); and freight forwarding and logistics. The company was the creation of one of the largest unionized LTL carriers – Roadway Express.
Roadway had a long history of prosperity and success navigating the regulated trucking landscape. Shortly after airlines were de-regulated, trucking was too. Carriers that had enjoyed decades of above average profitability found it difficult to adjust to the increased competition that came with de-regulated markets. Roadway was no exception. In facing up to new realities, the company altered strategic course and created a holding company called Roadway Services Inc. The national LTL carrier Roadway Express was initially the only subsidiary. After surveying the post de-regulation landscape, the first purchase was made in 1984 of Spartan Express. The national LTL business is based upon a hub and spoke model, a very efficient model for transporting goods over large distances; but one not very efficient for handling goods over shorter distances where point to point handling of freight minimizes both cost and transit time. (This difference is very similar to the differences in approach that Southwest Airlines took as compared with national airlines such as American and United.) A second acquisition, Nationwide Carriers, a specialized carrier in areas such as temperature controlled shipping and flatbed equipment; the final purchase made in 1984 was of a company called Roberts Express from Emery Air Freight, Roberts specialized in making same day deliveries by truck rather than air when it was economically justifiable to do so.
The most ambitious project that Roadway Services committed itself to was Roadway Package Service (RPS) in 1985. The plan was to compete with United Parcel Service by having a lower cost structure through the extensive use of technology and independent contractors. After the required start up period of losses and investments the company was a huge success.
One of the longest and most impactful strikes in the LTL industry began in April, 1994. The largest LTL carriers had proposed a contract that would have continued to carry above average wages for union members but also greater flexibility for corporations including part time workers during peak periods and the ability to use rail more extensively in moving freight. The union turned down the concessions and walked out on the morning of April 6, 1994. The crippling strike lasted 24 days. In response, Roadway Services Inc. decided to separate the company into two pieces in August, 1995 – one piece was the unionized long haul carrier Roadway Express and the other piece was the collection of assets that had been assembled since de-regulation, this piece was called Caliber Systems Inc. Although losses would shut down both Spartan Express and Nationwide Carrier, RPS, Viking, and Roberts formed a solid core.
August, 1997 brought another strike, this one at UPS – it lasted 15 days. Prior to the start of the strike Federal Express and Caliber had already started discussing a merger. The strike caused the volume at both companies to increase by 15%, a portion of which stuck following the strike. The deal closed in January, 1998.
The next large acquisition was announced in November, 2000 (and was closed the following year) for regional LTL carrier American Freightways for $1.2 billion. In time Viking became FedEx Freight West and American Freightwaysbecame FedEx Freight East. National LTL capability was added with the purchase of Watkins Motor Lines for $780 million in 2006, the company is now FedEx National LTL.
The two remaining acquisitions of note were for the Kinko's chain in 2004 (now FedEx Office) for $2.4 billion and for Parcel Direct also in 2004 (now FedEx SmartPost) for $120 million.
For the fiscal year ended in May, domestic express was 33.7% of revenue, international express was 27.8%, ground was 21.2%, freight was 12.3%, and services was 5.1%.
Philosophical and Strategic Differences
UPS and FedEx clearly developed from distinct forces. In many ways UPS has historically operated as a partnership with the company's managers being the partners. The company did not participate in an IPO until 1999, before that time the company was owned by current and former employees. UPSexpanded methodically and consistently over decades, slowly adding operations in one place after another. It never made any major acquisitions until the most recent decade in order to build the supply chain and freight segment. The company has been unionized since around 1920 and UPS does not seem to view unions as a liability other companies would. In fact after the acquisition of Overnite, little was done to block the unionization of parts of the company. Finally, since UPS grew so methodically, it seeks to integrate operations as much as possible. As examples: both air and ground pickup and delivery operations are merged and after purchasing Menlo Worldwide Forwarding the operations were merged with the overnight business.
FedEx has been built through the prescience and entrepreneurship of a single person, Frederick Smith and through the entrepreneurial spirit of Roadway Services. Whereas UPS has become comfortable with its union workforce (it admittedly took a long time), FedEx has a profoundly anti-union culture and its ground drivers continue to be independent contractors. Because of this, unlike UPS, FedEx does not typically operationally integrate its acquisitions. They have expressed their strategy as: "operate independently…compete collaboratively".
Market Positions
It is difficult to get accurate market share numbers for all regions of the world. The largest reason for this is that although UPS and FedEx report revenue for all of their various segments and between the United States and the rest of the world, it does not break out its international revenues by country or even by region.
Internationally, the small parcel market is no duopoly as it is in the United States. Many foreign markets are dominated by current and former postal services. For example, Purolator is the largest Canadian small parcel firm (it is 90% owned by Canada Post), while Europe's largest participants include entities owned by postal services whose mail monopoly has ended. This includes Germany (DHL), the Netherlands (TNT), France (La Poste), and the United Kingdom (Royal Mail).
Globally, four firms, UPS, FedEx, DHL, and TNT, dominate with a combined market share of around 70%. DHL and TNT have no direct United States presence, but in most other regions DHL has a larger presence than either UPSor FedEx.
The market share figures presented below are very good estimates, but they are by no means perfect. Several sources were used to cull together the information, mostly Annual Reports and SEC filings of all four large players but also from information compiled by the firm SJ Consulting. The annual reports of DHL and TNT are far more valuable in presenting market information than either those of UPS and FedEx. Not all sources of revenue are covered, for example about 80% of UPS' international revenue appears in the market figures and 20% does not. This is likely due to certain regions of the world being unaccounted for and an emphasis on export rather than domestic revenues.
Domestic revenue is divided between ground and express, European revenue is divided between intra-Europe and export, and all other figures are solely for export revenues.
Figures for the LTL and logistics markets are from SJ Consulting.
US Small Parcel
The US small parcel industry is composed, virtually entirely, by UPS, FedEx,and the United States Postal Service (USPS). In the not too distant past, UPShad an extraordinary market share of around 80%. This has been slowly eroded by first, the introduction of overnight shipping and second, the launch of RPS and its successor FedEx Ground.
It makes a great deal of sense for the other two international players (DHLand TNT) to build a United States network. Indeed, DHL has recently tried and failed. It takes a tremendous amount of capital and patience to successfully lauch a package network over an area as vast as the United States and since DHL could either not find a way to properly operate or did not have the patience to see its investment through, it is not likely that new threats would emerge to the current market structure. This will be further discussed later. On the other hand the current duopoly should not be too complacent about their home market, RPS' success proves it can be done and the coexistence of more than two carriers internationally leads one to believe that the market could absorb additional competition.

Europe Small Parcel
The European market structure owes itself to postal services that no longer hold monopolies on mail deliveries in their native countries. Just as it is extremely difficult for foreign companies to launch United States services, it is extremely difficult for American companies to do the same in Europe. FedExtried and gave up, its business in Europe is limited to export business, with the small amount of intra-Europe revenue it has being from deliveries between European countries.
It was no easier for UPS. West Germany was its first foray internationally along with Canada. Numerous cultural barriers had to be overcome followed by continued investment to slowly build the scale necessary to compete. Many within the company thought it was a mistake and that UPS should abandon Europe. It appears that the largest factor in the eventual success was the partner like nature of the company. At the time only current and former employees owned the outstanding stock. Had UPS been a publicly traded company as it is now and as FedEx and DHL are, it is not clear that Europe would not have been abandoned. As it slowly gained traction, UPS has set up an integrated air and ground network similar to that which exists in the United States.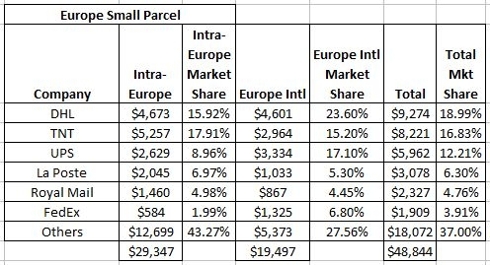 Asian Small Parcel
Asia is an entirely different environment, if only because of geography. It is impossible to set up large integrated ground companies because many of the important markets are divided by oceans. The only way to successfully operate is to have a dedicated air fleet. For this reason, FedEx clearly is more comfortable than UPS operating in the region and they were also the first to make it a priority by sensing the huge inherit demand of Asia-Pacific shipping. They are currently about twice as large as UPS in the region. DHL in Asia is roughly as large as FedEx and UPS combined, and thus has the strongest position. The figures below are for exports only and do not include shipping between Asian countries.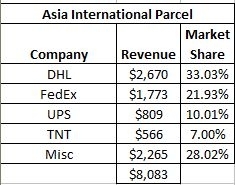 Eastern Europe, the Middle East, and Africa Small Parcel
DHL clearly has the upper hand in this part of the world. It is likely to remain this way as competitors view other parts of the world as more strategic and worthy of the bulk of available investment funds.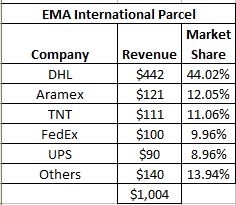 North and South America (except the United States) Small Parcel
FedEx has the advantage here, and UPS and FedEx predictably dominate. It is likely that South America will increasingly become a battle ground if Brazil continues its recent economic performance.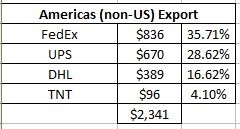 Consolidated Global Small Parcel
The above title is something of a misnomer since I have already confessed to the fact that the previous figures are not exhaustive. The available figures when added together are also extremely concentrated in the United States and Europe, while these are the two largest small parcel markets they are not as large relative to the rest of the world when export volume is all that is considered in many markets. Despite its limitations, the consolidated figures do provide a good measure of the global market and also accurately illustrate the dominance of UPS, FedEx, DHL, and TNT.
I have also added a column that weights each market share by the regions contribution to world GDP. This approach has its limitations as well, but gives a greater weight to emerging regions where transportation has not yet reached the penetration relative to the overall economy that mature economies have. The weights used were based upon GDP figures from the CIA World Factbookand are 24.52% for the United States, 27.62% for Europe, 28.17% for Asia, 8.5% for Eastern Europe, the Middle East, and Africa, and 11.18% for the Americas.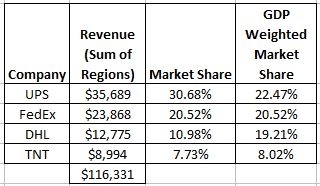 North American Less-Than-Truckload (LTL) Freight
The LTL market provides far less favorable economics than the small parcel market, primarily because of greater competition. FedEx seems to have viewed LTL more positively than UPS has. It also has two separate LTL networks: a regional network built from Viking in the west and American Freightways in the east and a national network from the acquisition of Watkins Motor Lines. It has recently announced the integration of those two networks. That will certainly present some challenges (more so than many have indicated) but will also instill greater discipline to the market.
UPS entered the industry with its purchase of Overnite. Many of UPS' past acquisitions have been made in part as a means to move more packages through its small parcel network (such as customs brokerage acquisitions and The UPS Store). Entry into the LTL market seems to be for the opposite reasons. Using LTL contacts to gain small parcel volume has not been as meaningful as using small parcel contacts to gain LTL market share. Technology, in which UPS and FedEx have massive advantages over other freight providers, has also been transferred to LTL.
The industry overall appears to be more rational than it has historically been, despite weak industry conditions at present. It does not seem likely that much capacity will be added in aggregate any time soon. Indeed, the largest player YRC Worldwide has shed capacity in its network integration of Yellow and Roadway. And as already mentioned, FedEx is also shedding capacity. The industry will never have the profitability that small parcel shipping does, but once industry conditions are more normalized it is likely that plenty of profits will go around. The biggest threat to trucking is rails, particularly if fuel prices spike again. In all likelihood, carriers will continue to attempt to ship freight that is not time sensitive and over long distances through railroads. As I already mentioned, the market share data below comes from SJ Consulting, which is far and away the best source for industry data.
click to enlarge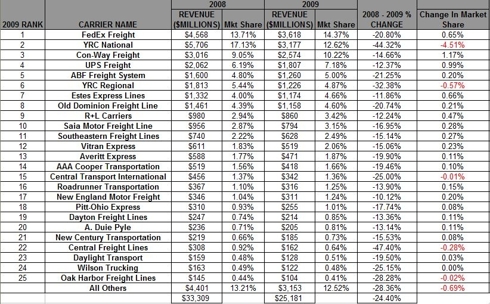 Logistics
This is an area in which UPS has a large presence and FedEx does not. Much like FedEx appears to be much more optimistic about the LTL industry, UPSappears to be much more optimistic about asset light transportation businesses.
One of the selling points made by UPS is that it can be the entire supply chain, coordinating and tracking everything from supplier shipments to current inventory levels to final delivery to the customer. This is especially appealing to small businesses who have more to gain from UPS' scale and technology than larger businesses would, but large corporations also hire UPS to oversee portions of their supply chain. In particular UPS has focused on three core areas: retail, technology, and health care.
In addition to these, UPS logistics' businesses include freight forwarding and customs brokerage. FedEx is also a player in those businesses, but they have so far limited themselves to asset light companies that have clear synergies with their asset based networks (such as customs brokerage).
The below figures are global and are taken from figures compiled by SJ Consulting.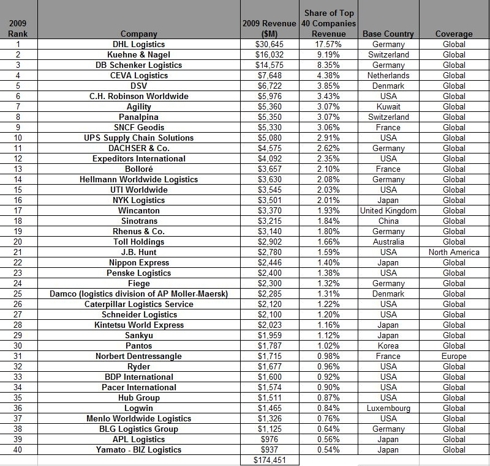 Retail
Both UPS and FedEx have purchased retail presences in order to boost services to small businesses and create additional volume opportunities. UPSpurchased Mail Boxes, etc. in 2001 for $185 million in cash. Sometime later, at the outset of 2004, FedEx closed its acquisition of Kinko's which cost $2.2 billion in cash along with the assumption of about $200 million in debt. Both companies have been re-branded to The UPS Store and FedEx Office in the time since. It is also safe to say that each company had difficulties with these acquisitions.
A package network has substantial fixed costs and as a result must secure a minimum level of volume to be profitable. As a result, a large proportion of volume for both UPS and FedEx are deeply discounted shipments originating with businesses. These discounts are not given in the retail market, because the volume per shipper is so small. As a result this retail volume carries attractive margins.
The UPS Store inherited a franchise model from Mail Boxes, etc. This allowed for rapid expansion while maintaining below average capital requirements. But following UPS' purchase it became clear that often the interests of the parent and subsidiary might often diverge. The goal in purchasing the company was clearly to secure a stable means of generating volume through the then 3,300 US franchises. The problem, though, was that UPS had an incentive to encourage volume growth through channels other than retail since it is more efficient to have a driver simply make a daily pick up than to insert a retail relationship between UPS and the customer. The relationship between UPS and franchisees has been acrimonious to say the least and the issues remain unresolved. Prior to UPS, Mail Boxes, etc. was owned by US Office Products Company, which is now bankrupt, but based upon its filings Mail Boxes, etc.had operating margins typically close to the mid to high teens and revenue was close to $85 million at the time UPS purchased the company. So UPS, by my estimate, paid around 22 times earnings for the company. Of course, as has already been laid out, it was for volume and not earnings that the company was purchased and thus the current poor relationship with the franchisees. Since there were 3,300 locations in the United States when UPSbought the company and that number remains the same today, it appears that expansion has not been a priority.
Kinko's was founded in 1970 and for a long time geared itself towards college students rather than business professionals or small business owners. The stores are not franchised, which means a higher net investment from FedEx, but control over corporate strategy without having to interact with franchise owners. A typical Kinko's also has a more diverse revenue stream including printing services and office supplies. As a result, each location does substantially more revenue than a UPS Store would, but the store footprint is smaller. At the time of purchase there were about 1,300 US and Canadian Kinko's locations and today there are 1,800. Based upon a $2.2 billion cash price, revenues of about $2 billion, and an operating margin of 7% FedEx paid about 24 times earnings for Kinko's.
The Future
"It is best to read the weather forecast before praying for rain." – Mark Twain
Perhaps the most important question for both UPS and FedEx is whether or not the small parcel oligopoly in the United States continues. The simple answer is that it is very likely that it will. This does not make very good economic sense since over the course of an economic cycle the existing carriers earn substantially more than their cost of capital. Why is it that this has not and will not attract competition? Looking at the global market it would seem likely that both DHL and TNT would eventually make a move to capture a share of the United States market. Of course, DHL did enter the market and failed. Why? DHL's experience is key to understanding the future of small parcel shipping in the United States.
DHL had deep pockets to fund its move into the US market. It paid $1.05 billion for Airborne Express in 2003 and then invested, along with Airborne, a further $1.9 billion. To top it off was a $150 million marketing campaign. Shippers also had an incentive to see the market become competitive and were willing to give the start up the benefit of the doubt. Many states gave DHL some or all of their overnight business while companies like Dell and Skechers also shifted some of their shipments. Since capacity was tight between 2003 and 2007, UPS and FedEx did not initiate a price war with DHLeither. In short, the timing was near perfect for a new entrant.
The failure of DHL in this context can seem puzzling. The reality was that they put the cart before the horse by seeking to secure business while operations were not fully in place. If DHL had first worked through common operational challenges and then gradually brought on new business, they may still be in the United States. Once a reputation is gained for unreliability, though, it is very difficult to change, much like Hester Prynne's scarlet letter. Other challenges existed as well, such as the relationship with Airborne. Whatever your view of the lessons from DHL's results are three facts seem undeniable: DHL was the most likely company to be the third US small parcel provider, the time selected by DHL was a good one with generally tight capacity, and DHLcould not gain traction. In view of this it seems improbable, though not certain, that new competition will emerge anytime soon.
That leads to the next logical question: If the market will be carved up between UPS and FedEx how will it be shared? First, it is important to revisit the two business models in the United States. UPS has integrated operations for both air and ground delivery (the line haul operations are necessarily independent) while FedEx has distinct air and ground networks. Pick-up and delivery drivers for FedEx are independent contractors, similar to franchise owners. They own their own trucks, pay for their own fuel, and are paid by the package. UPS drivers are unionized employees paid by the hour. It seems straightforward to me to say that the integrated model of UPS is intrinsically more efficient since so much of transportation efficiency is based upon density. At the same time, the FedEx model places more responsibility on the shoulders of drivers to be productive and ultimately a greater share of the profit pool accrues to the owners rather than to labor. I am not taking sides in the morality of either model or in any way implying that UPS drivers are not productive (the exact opposite is the truth). What I am doing is stating some straightforward truths based upon history. Many of the estimates I have seen place the direct costs of FedEx operating both networks as about 15% less per package than UPS operating one network. Based upon that it may be surprising to view the following data for US small parcel operating margins; UPS for its integrated network and FedEx for ground only.

Why has UPS been more profitable? Because many of the costs incurred have been fixed or of a fixed like nature. These include technology and supervision, where more volume can absorb these costs. Here are the ground revenues for both companies over the same time frame.

UPS should be concerned about the trends. If FedEx continues to make volume gains along with maintaining a direct cost advantage, they could in time seize dominance in the industry.
There are other factors that are a concern for FedEx. These are mostly legal and political. On the legal front, many have challenged the independent contractor model in court, claiming that they legally should be classified as employees. Many of the issues have come in Massachusetts and California. If FedEx loses these battles it seems likely that unionization would follow. And so the future of the argument should correctly be placed in the context of labor's role in the economy. If the power of unions persist at current levels, it seems unlikely that this model will be upended. On the other hand if the events of the past few years signify a long term pivot in the distribution of political power then there is a reasonable chance that serious challenges could mount, both in the laws preventing FedEx Express from unionizing and the model which prevents FedEx Ground from doing so.
Regardless, the US market will continue to have plenty of volume to busy both carriers even as the nature of competitive advantage could shift dramatically.
Valuation
Because of the cyclical nature of the underlying businesses I chose to value them using a sum of the parts analysis and assume that volume and margins return to the historical peak of 2007.
First, here are the valuation assumptions for UPS which should hopefully be very straightforward.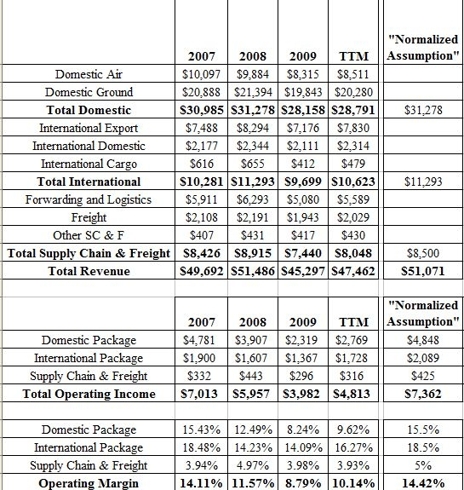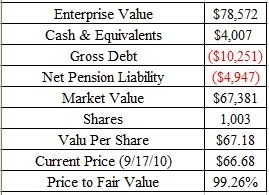 Here is the similar chart for FedEx.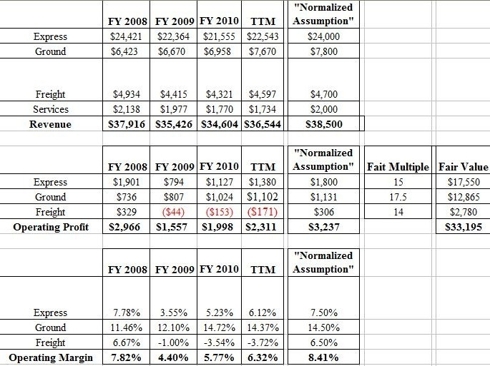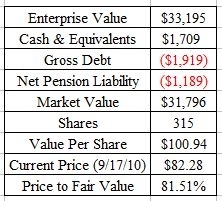 To put the above results into perspective, they assume that normalized earnings for UPS are $4.77 per share and a fair multiple is 15. Normalized earnings for FedEx are assumed to be about $6.68 and a fair multiple is also about 15. In the case of UPS, returns on investment are still greater but so are the gross amount of debt and pension liabilities.
Your valuation model or estimates would likely be different than mine, but the valuations do not need to be complicated. FedEx is statistically cheaper, but I would challenge you to answer the following questions before making any valuation or investing decisions:
1. What is the likelihood another entrant will enter the US small parcel market?
2. What role will labor have in political discourse ten years from now?
3. Will growth in emerging markets continue and what role will US multinationals play in that growth?
4. Do you think that there is some probability globalization could reverse itself?
I have my own answers which are very low, too difficult to say, probably and a lot, and yes but it is not very high.
To conclude, consider what John Maynard Keynes wrote after the first World War concerning the era of globalization he lived through in his book The Economic Consequences of the Peace published in 1920:
The inhabitant of London could order by telephone, sipping his morning tea in bed, the various products of the whole earth, in such quantity as he might see fit, and reasonably expect their early delivery upon his door-step; he could at the same moment and by the same means adventure his wealth in the natural resources and new enterprises of any quarter of the world, and share, without exertion or even trouble, in their prospective fruits and advantages; or he could decide to couple the security of his fortunes with the good faith of the townspeople of any substantial municipality in any continent that fancy or information might recommend. He could secure forthwith, if he wished it, cheap and comfortable means of transit to any country or climate without passport or other formality, could dispatch his servant to the neighboring office of a bank for such supply of the precious metals as might seem convenient, and could then proceed abroad to foreign quarters, without knowledge of their religion, language, or customs, bearing coined wealth upon his person, and would consider himself greatly aggrieved and much surprised at the least interference. But, most important of all, he regarded this state of affairs as normal, certain, and permanent, except in the direction of further improvement, and any deviation from it as aberrant, scandalous, and avoidable. The projects and politics of militarism and imperialism, of racial and cultural rivalries, of monopolies, restrictions, and exclusion, which were to play the serpent to this paradise, were little more than the amusements of his daily newspaper, and appeared to exercise almost no influence at all on the ordinary course of social and economic life, the internationalization of which was nearly complete in practice.
It is likely that today's trends, whatever they may be, will survive through tomorrow. But since they may not a margin of safety is always demanded. No one is going to out smart the world with excel spreadsheets; to make intelligent investing decisions, one must intelligently handicap outcomes. Although we enjoy huge advantages over those living one hundred years ago one fact remains constant: the world is an uncertain place.